Early last month we took our first vacation in over 2 ½ years. This time, the chilly wilderness of northwestern Wyoming came calling. Our destination? Breathtaking Jackson Hole.
Rene and I snuck out of Highlands Ranch before 6 a.m. on a Thursday, escaping our hectic daily routine, thinking that if we left before the city woke up we could make a clean break, avoiding the Denver traffic that somehow seems to get worse by the day. Our strategy worked.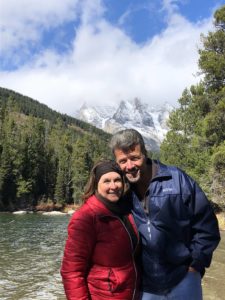 After we passed Fort Collins we lost KEZW's radio signal (sorry, Rick), so we switched to Prime Country on SiriusXM as we drove northwest. My musical tastes vary, but I rarely listen to country, except when we're in Rene's car, which has satellite radio. Since I only seem to know country songs from the 1980s and 1990s, Prime Country was perfect. We were driving to Wyoming, after all.
As we headed up Highway 191 toward Pinedale, a gentle rain began to fall. The Aspen trees in the groves had already lost half their golden autumn leaves and seemed barely conscious–as if they were about to drift off to sleep. Raindrops flattened in graceful ovals that streaked upward on the windshield, which was suddenly cleaner than when our trip began. Two minutes later, the sun emerged, peeking between billowy grey clouds. Off to the east, juicy, moisture-laden clouds poured down rain in sheets.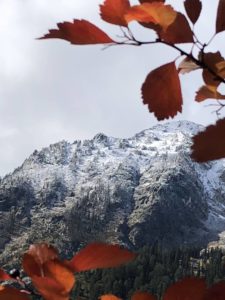 The terrain of Northwestern Wyoming is framed by rolling, gentle humps of bluffs. I longed to reach out my arms and swallow up the clean, pristine open space dotted with grazing black Angus and Hereford cattle. In my mind, the year was 1860 and the flat spaces were dotted instead with grazing bison. I imagined scouts looking down from the bluffs on to the vast flatlands. Open. Undeveloped. Unblemished, except for the fences that separated landowners' land, saying "This is mine." We stopped in Pinedale and the freshest air I have ever breathed filled my lungs.
We arrived in Jackson in a steady rain and explored the town before settling in to our cozy cabin at the Rustic Inn. Rene, my self-proclaimed "beer snob," began sampling the local IPAs and we both liked the Melvin IPA from Melvin Brewing. We left early the next morning for Grand Teton National Park with our guide, Anthony, a biology major who grew up in Connecticut. Rene and he enjoyed discussing the highs and lows of New England professional sports teams. "What in the world are you doing in Wyoming?" we finally asked. Anthony said the grandeur of both Yellowstone and the Grand Tetons were perfect for the current stage of his life. What a wise young man.
Anthony drove us around the perimeter of the park, then stopped so we could take pictures from the car of bison grazing by the side of the road. During winter, the area, known as the National Elk Refuge, is home to one of the largest herds of elk in North America that migrate down from the mountains to spend winter in the lower elevation and corresponding milder climate.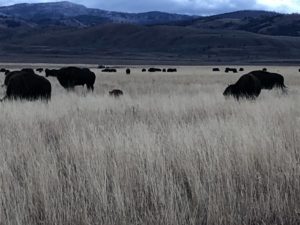 After saying goodbye to the bison herd, we went searching for moose. As you would expect, moose hanging out in public means idiot humans are not far away, trying to take photographs from dangerously close distances. Anthony said several moose vs. human "incidents" occur every year in Jackson Hole, particularly during the heavy summer tourist season. We saw several moose from a safe distance, so I put a checkmark next to "see a moose for the first time," and vowed to return soon to explore Yellowstone.
Anthony took several Christmas card-worthy photos of Rene and me, but what I loved most about the Grand Tetons was the sparse–yet friendly–number of tourists. We drove through every season of weather but hit zero traffic jams the entire trip.
Fresh air, snow on the mountaintops, bison, moose and good beer. To top it off, about 90 percent fewer people live in Wyoming than Colorado.
It was a perfect getaway.
Next time:  Shopping from the Sears Christmas catalog!
Best wishes for a blessed Thanksgiving filled with peace and love,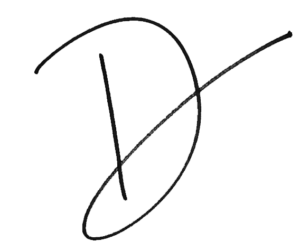 Prefer to listen to my blog instead? Press play below.