At the end of a staff meeting at Bye Aerospace a couple weeks ago, our CEO asked anyone who was old enough to watch Neil Armstrong walk on the moon to raise their hand. My hand shot up. The rest of the room was motionless, and my older colleagues kept their hands down.
Great, I thought to myself. Just great.
Despite the reminder that the years are rapidly rolling by, I reflected several times on that magical moment during the 50th anniversary celebration of the Apollo moon landing. I don't remember watching Neil Armstrong place his foot down or say those famous words, but I do remember sitting on the itchy seafoam green couch in our living room, knowing it was about to happen. Since I was a month away from turning 4 and the first walk on the moon was taking forever, I got bored, gave up and found something more interesting to do. Funny, I exhibit similar behavior today. I simply don't have the time or patience to wait around for something monumental to happen.
However, here are some brief memories of other so-called historic events I actually did witness. These are but a few of the snapshot moments forever plastered in my memory bank.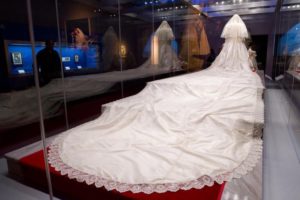 Prince Charles and Princess Diana's wedding in the summer of 1981. I didn't wake up early enough to watch the procession, but I remember the first image I saw when I turned on the TV in our living room was of the backs of people seated in a high-ceilinged chapel and a white wedding dress train that seemed to stretch most of the way down the aisle. That train! It was obnoxious and over the top and the stuff of royal fairy tales, at least until the fairy tale unraveled.

Nadia Comăneci's perfect 10s in the 1976 Montreal Olympics. This pixie gymnast was not from the Soviet Union, which was a huge deal at the time. Rather, she was a 15-year-old Romanian. Her bony body reminded me of a frail twig, but she had the strength of a powerlifter and the spring of a catapult launcher. Her moves were fluid and effortless, and I feared she might snap in half every time she whipped around the uneven bars. The first time she scored a perfect 10, everyone was confused because the score on the scoreboard was 1.00 since it was not programmed to display a score higher than 9.99. Once the announcer clarified that Ms Comăneci had indeed scored a 10, the sports world began to hyperventilate, and I realized I had just witnessed perfection. But then she scored six more perfect 10s. When ABC's Wide World of Sports did a montage of her routines from the Montreal Olympics and used the background music titled Cotton's Dream, which was later re-released as Nadia's Theme (The Young and the Restless), someone made a ka-zillion dollars off the music alone. Ms. Comăneci never performed her floor routine to the song during the Olympics, by the way. I purchased the sheet music and played Nadia's Theme over and over on our piano. Here's a photo of the actual sheet music I played.
Watching a white Ford Bronco drive down the San Diego freeway in the summer of 1994, being chased by the police. Actually, that white Bronco didn't belong to OJ Simpson. Rather it was owned by his close friend, Al Cowlings, also a former NFL player. The spectacle was anything but a car chase. The Bronco just kept driving and the cops kept following. Slowly. But I was mesmerized, as were approximately 95 million other people in the U.S. who also watched it live, according to Wikipedia. The slow-speed chase interrupted coverage of the 1994 NBA Finals between the Houston Rockets and the New York Knicks on June 17, 1994. The "chase" eventually ended at OJ Simpson's Brentwood home, where he surrendered to police after a nearly hour-long wait.
Jimmy Valvano's acceptance speech in 1993 at the ESPY awards. What I love about this speech is it makes me laugh, then brings me to tears, which was the precise point of his philosophy about life. On March 4, 1993, Jimmy V, who had metastatic cancer, gave an emotionally stirring speech after accepting the inaugural Arthur Ashe Courage and Humanitarian Award at the first ESPY Awards. For some reason that evening, when I was alone in my apartment in Richardson, Texas, I landed on ESPN while channel surfing. I didn't know a thing about Jimmy V, but as he started his speech, I could tell he had terminal cancer and was likely not going to live long. He announced The V Foundation for Cancer Research, whose motto is "Don't Give Up…Don't Ever Give Up," and I began to cry. Then his teleprompter started flashing that he only had 30 seconds left to speak, and he said, "I got tumors all over my body and I'm worried about some guy in the back going '30 seconds.'" He closed his remarkable speech with this: "Cancer can take away all of my physical abilities. It cannot touch my mind, it cannot touch my heart, and it cannot touch my soul. And those three things are going to carry on forever. I thank you and God bless you all." Sadly, he died less than two months later.
Those moments are raw and real to this day, and I still listen to Jimmy V's speech whenever I need a boost.
To forever,