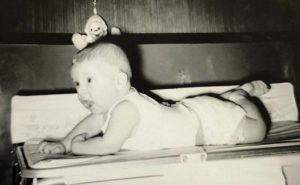 Rene and I — who share the same birthday — had a blast at our joint birthday bash at Launchpad Brewery in Aurora on September 1.
Since it was his 60th birthday, Rene was the star of the afternoon. So, I put together a "Rene Roast" in the spirit of the celebrity roasts that Dean Martin used to host. Here are some of my favorite excerpts from the roast for this great man I am fortunate to call my companion for life:
Rene Joseph Simard was born in Methuen, Massachusetts on September 1, 1959, to Chanel and Josie Simard. Rene is half French and half Italian, so even though his blood temperature can go from normal to boiling in record time, the French side usually takes over and keeps him out of trouble.
Rene's father, Chanel, whom we all call "Pop," jokingly tells the story of Rene's birth like this:
"Rene was born with a pointed head, like something out of a science-fiction space movie. His mother was teary-eyed after she delivered, and I remembered thinking to myself, 'I don't want him, put him back.' But then the doctor who delivered Rene said, 'Mrs. Simard, don't worry about a thing, it's completely normal.'"
Thankfully, Rene's pointed head went away, although he still has an unusually large head and wears a 7 ¾ hat. In fact, he always wore the largest hat size available during his time in the Air Force.
Rene's mother, Josie, always gushes when she talks about Rene as a baby. "He was such a sweet boy, always so happy." Some memorable events from his childhood include when he was first crawling and pulled on the cord of the iron, which fell on his face, and his parents rushed him to the hospital. Although he had to endure iron marks on his face for months, thankfully he made a full recovery. Then he went through mono at age three, and when he was nine, he spent two weeks in the hospital with pneumonia.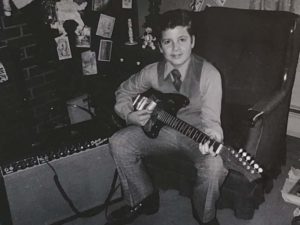 A little over 12 months after Rene was born, Josie gave birth to his sister Cathy, followed by Paul three years later and Cindy, who was born two years after Paul. That means Josie raised four kids under the age of five while Pop worked three jobs. Rene and Cathy were inseparable, and Rene was her protector up until they graduated from high school. In 1964, the Simards moved from Lawrence, Massachusetts to Salem in southern New Hampshire, about 30 miles north of downtown Boston.
Rene liked to play the guitar and took lessons for three years. He also liked to entertain the neighbors with his impressions of Tom Jones. About the time he was 10, Rene became interested in the military and played the song, "Ballad of the Green Berets" over and over. He thought about joining the military, but after watching Perry Mason countless times, he thought about being a lawyer.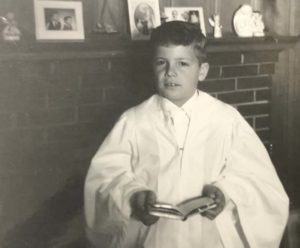 During the four-plus years he was an altar boy, he even thought about becoming a priest. As you are about to learn, neither of those aspirations lasted for long.
But first, I want to share a couple thoughts from a childhood friend of Rene's, Fred Ford, an author and motivational speaker who sends Rene and me an "Our Daily Fred" devotional that we enjoy reading on weekday mornings.

From Rene's long-time friend, Fred Ford:
"My family (mom, dad, three sisters and one brother) moved from Arlington, Massachusetts to Salem, New Hampshire in December 1973.  It was the middle of the school year and I was in the 6th grade.  I went from Class President to Class Nobody overnight. Gaining acceptance by classmates and peers at that age proved to be very challenging. Thankfully, one of the first kids I met in my home room was Rene Simard. One of other kids I met was Bob Razza, who created a nickname for Rene that thankfully didn't stick:  Renegade Samoots.
To retaliate, Rene and I came up with a nickname for Bob: Razza-Rica-Roo-Roo. Anyway, Rene was one of my first friends in Salem. He not only accepted me, but took me under his wing, looked out for me, and made me feel at home. We continued to have a close friendship through junior high school and high school. We both fell in love with beer in 10th grade, and then girls. When I look back at the major change in my life, moving at the age of 11 and trying to blend in with a whole new crowd, I can say without hesitation that my friendship with Rene Simard was a turning point. He was a great kid—generous, honest, funny, and friendly—and he became a great man, a man of integrity, truly a family man. It was a joy to read about him in Diane's great book.  Happy birthday to a very special friend in my life."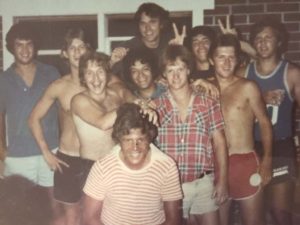 Now, earlier I mentioned that Pop had three jobs while growing up, and one of them was police officer for the Salem Police Department on the weekends and on some weeknights. Rene was proud that his father worked so hard, and Pop had a reputation for being a tough but fair cop. However, it made for some awkward adventures in under-age beer drinking. Pop would always be up when Rene got home from a night out with friends, and when Pop suspected Rene had been drinking, he would make Rene go down to the basement and stay awake to play multiple games of darts. If Rene missed the board too many times, Pop's suspicions would be confirmed and he would get grounded.
The closest Rene came to getting busted for minor in possession was just shy of his 18th birthday. The only reason he and his of-age friends weren't charged was because Pop was a cop. However, the officer who stopped and found out Pop was a cop insisted that Rene tell his father. Unfortunately, that conversation did not go well!
Rene graduated from Salem High School with the Class of 1977. He still keeps in touch with his best friend from high school, Ron O'Keefe, and a half-dozen others from his senior class who we try to visit every time we go back to New England.
Although he didn't much care for school, Rene went to college for a year out of high school, attending Plymouth State in Plymouth, New Hampshire, to study physical education.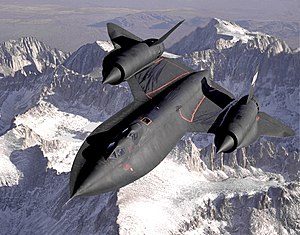 He became a better partier than a student, and one day in February 1978 he visited with an Air Force recruiter in the cafeteria, and the rest is history. Unfortunately, Rene was misled during his enlistment process, and ended up in, as he says, "Godforsaken Northern Maine at Loring Air Force Base" during the cold war.
For 5 long, frigid years, he walked around and guarded B-52s loaded with live nukes that were on alert during the Cold War.
One night, he was alerted that a special-mission airplane was making an emergency landing at Loring to repair mechanical problems. As it turned out, it was an SR-71 Blackbird that he guarded all night while it was in the hangar. Rene said he had never seen or heard anything like it.
Finally, Rene was able to switch career fields to logistics planning, and he began his ascent in the enlisted ranks. After loggie training, he was stationed at Offut Air Force Base in Omaha, Nebraska, where he completed his bachelor's degree in logistics management from Peru State College in Nebraska. To this day, his mother still thinks he graduated from Purdue University.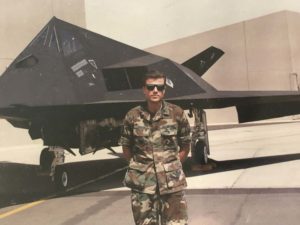 Next, it was Tonapah in Nevada, home of the F-117 when it was a top secret project. The F-117s were among the first to deploy during Desert Shield in August 1990, and he was stationed in Saudi Arabia for the next 8 months.
From Tonapah it was on to Ramstein, Germany for four years, absorbing the local culture as much as possible. After Ramstein, he made Chief Master Sergeant, or E9, the highest enlisted rank.
On 9/11, Rene was at the Pentagon as the Career Field Manager for Logistics and had just left a meeting on the same side of the Pentagon that was later hit when the first airplane hit the World Trade Center. As events unfolded on that long day, he decided to stay in the Air Force and not retire.
One of the jobs he applied for and got after 9/11 was to be the Command Chief for the 460th Space Wing at Buckley Air Force Base here in Aurora. He claims he got the job because he was taller than the other two candidates.
Rene retired from the Air Force in 2006, but he has never lost the discipline, loyalty, and service-above-self mindset that he gained from his military service. That sense of order and efficiency is one of the endearing traits I adore most about Rene, because he and I are freakishly alike in that way. Up at 4:44 on weekday mornings for PT, after which we hit the showers and the chow hall. We leave the house for our work days, then it's home for chow at 1800, followed by 90 minutes of chores and email, then TV time from 1945 to 2045.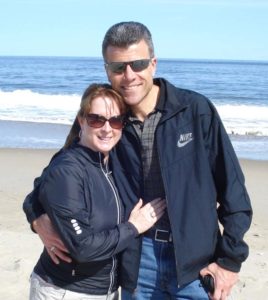 Sounds crazy, but I wouldn't be as productive and effective as an advocate for the Mighty Many if I didn't have the Marlboro Man by my side.
Happy birthday, my love!
Here's to many more years of happiness,