Prefer it on audio? Listen to it below!
Just what is it about the month of May? High school and college graduations, the completion of another school year, blooming fruit trees and the itchy pollen that seems to collect in my eyes and nose, the Kentucky Derby, the Preakness, my brother Lee's birthday (celebrated with the same vigor as a national holiday), social luncheons, weddings, the Indy 500, Memorial Day weekend…
To me, May is "transition month." On the front range of Colorado, we typically have snowy or chilly, rainy days early in the month, but by Memorial Day, temperatures begin to soar well past 90 degrees. Mother Nature's hair dryer flips on, and the humid days of early May are given the boot.
This May, I experienced many transitions as well. Here's a recap:
May 5:

           
I planted my vegetable garden. If I don't plant a garden, it ain't summer.  The largest part of my garden is devoted to green beans. I'm not a huge fan of eating green beans – I just love to grow them. In fact, my favorite part of summer is sitting on my plastic white stool, picking green beans and throwing them in my "harvest basket." My horticultural goal this summer is to have an epic, eat-your-heart-out Charlie Brown pumpkin patch, located in the spot where our sunken hot tub used to be. Apparently, mice loved to eat the insulation around the mechanics of the hot tub, so two years ago, out went the "mouse house," up went a retaining wall and in went about 30 bags of mulch and potting soil. This is the year for pumpkins. I can feel it!
May 19:

         
The Royal Wedding of Harry and Meghan. I missed it, but apparently it was spectacular.
My excuses for not watching The Royal Wedding:
I needed to sleep. With a 4:44 a.m. daily wake-up call on weekdays, by Friday night I am typically asleep by 8:30 p.m. Ten hours later, I emerge from a coma.

Our DVR died a couple months ago, and it takes a G7 summit and the entire national defense budget to re-program a new DVR into our complicated home audio/video system. It's a complete waste to keep putting Band-Aids on this 14-year-old mess, so we are now just waiting for the entire thing to die before switching over to an IT-based system. Why did watching television have to get so flipping complicated?

Since I didn't catch the royal wedding live, watching highlights now seems pathetic.
May 19:

         
Rene and I attended the service of remembrance for Stephen Hogan, the Mayor of Aurora (Colorado). Steve served most of his adult life in politics – first as a Democrat, then as a Republican. I did not know Steve well, but I always respected his passion for the city. He was a wise, confident, comforting leader, but his brilliance came from his willingness to listen and to keep planning for the future. Just like me, Steve was born and raised in Nebraska. Insert jokes here if you want, but he had the unique work ethic and dedication that I believe comes from growing up in a rural area, nurturing the land and other resources, contending with unpredictable weather and relying on teamwork to accomplish most everything. At the end of his memorial service, Steve's request was that we all stand and sing "Take Me Out to the Ballgame."
The week Steve died, he released what some at his memorial service referred to as a love letter to the Aurora community. In his eloquently-worded message, he encouraged everyone to unite in his memory. Here is an excerpt:
"I would respectfully encourage each person reading this message to embrace the honor of public service and continually seek to enrich the lives of our fellow residents. It is in this honor and in this service where leadership and inclusive governance will flourish."
Amen, Mayor Hogan. My prayers of love and comfort go out to Steve's wife and my dear friend, Becky, and the entire Hogan family.
May 23:
I attended my first advisory board meeting for QalibreMD, headquartered in Boulder. QalibreMD is a precision instrument R&D and manufacturing small business whose strategy is to transform medical imaging, in this case, magnetic resonance imaging, or MRI. Their technology and quantitative imaging standards can provide an exact diagnosis of what disease is present, at what stage and to what extent in the body. In one infamous case, a patient had to have an MRI done 10 times because each test came back with 10 different results – all from the same MRI machine. This is a problem of inefficiency and a lack of baseline standards for MRI machines, and yet another flaw in our healthcare system. I believe QalibreMD has a solution.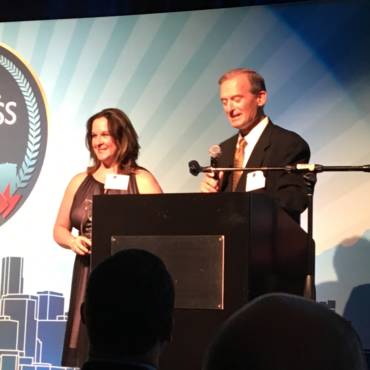 George Bye (right) and I accepted the Denver Business Journal's
Small Business Award for Bye Aerospace.
May 24:         
Bye Aerospace, the electric airplane company I invested in and have worked at for 10 years, won the "small" category of the Small Business Awards by the Denver Business Journal! Congratulations to our team and to our leader, George Bye. Also, a sincere thanks to Karen Breen at Wells Fargo for nominating us.
May 25:         
I attended a luncheon to celebrate the 50th anniversary of Centennial Airport, where Bye Aerospace is headquartered. The keynote speaker at this classy event was Chesley "Sully" Sullenberger III, who is the retired airline captain who landed US Airways Flight 1549 on the Hudson River off Manhattan after a massive bird strike on Jan. 15, 2009. Congratulations to Centennial Airport, the nation's second busiest general aviation airport, on their marvelous achievement. We at Bye Aerospace are fortunate to have the Airport Authority's support, particularly for our Sun Flyer electric airplane program.
May 26:         
We visited the Colorado Freedom Memorial (CFM) near Buckley Air Force Base in Aurora and paid our respects to the more than 6,000 Coloradoans who have been killed in action since Colorado became a state. All the names of those killed are etched in glass panels on the memorial. Rene and I were on the Board of Directors of the CFM foundation before the memorial was built and dedicated in 2013. Rick and Di Crandall, their family and the many volunteers who support CFM deserve our gratitude and thanks for their tireless efforts to honor the fallen.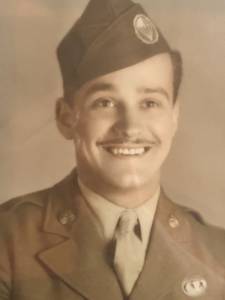 (Uncle) Rene Joseph Simard, circa 1943
May 28:         
Memorial Day. The day to honor those who have died in all American wars. Rene is named after his uncle, Rene Joseph Simard, who was killed in China near the end of World War II. Uncle Rene served in the U.S. Office of Strategic Services, the precursor to the Central Intelligence Agency. He was a member of the Massachusetts National Guard and was a dark-haired handsome Frenchman with a turned-up moustache. Since Uncle Rene served in the equivalent of today's military special forces and some records from World War II were accidentally destroyed, the exact details of his death will likely never be known.
Words cannot express the heartfelt gratitude I have for the brave women and men like Uncle Rene and the more than 1.1 million Americans who have been killed in all U.S. wars to defend our freedom. They made the ultimate sacrifice so that we can continue to live in a free country.
What a month of transitions. But honestly, most of my days, weeks and months are like May 2018. Last month offered me a time to grieve, to laugh and celebrate, to honor, to attempt to solve colossal challenges, but most of all, the chance to live my best life.
To life!