Summary: My two most memorable birthdays while growing up in Cotesfield, Nebraska, were attending a Rick Springfield concert and meeting Kalamity Kate (Leta Powell Drake), host of "Cartoon Corral."
Listen to the audio version here:
Happy birthday to my husband, BFF and twin, Rene!
Fun fact: Rene and I share the same birth date, although we were born in different years. September 1 is our big day, and our birthday typically falls on Labor Day weekend or sometime close to late summer's first college football games.
It's the big "five-three" for me this year, and life continues to get more charming.
Menopause? Done.
Arthritis? Absolutely, in my fingers and knees.
Grey hair? Definitely. But every eight weeks those nasty buggers get a brown shellacking.
Lactose intolerance? You bet, but I will spare the unpleasant details.
Colonoscopy? One down, the next one not for another eight years.
The Big Entrance
Fifty-three years ago this summer, I took my time in typical diva fashion to emerge into this world, arriving three weeks late, at 3:30 in the morning. My college journalism professors would be proud, since I still have the newspaper clipping from the Howard County, Nebraska, edition of "The Phonograph Herald," announcing my birth. By the way, I weighed 7 lbs., 4 oz. at birth, not 4 oz. My birth announcement is no doubt the only time in my life when I will happily publicly disclose my weight.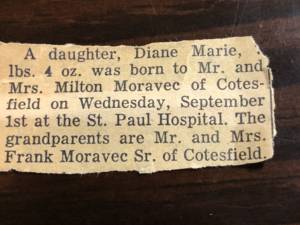 After reading my birth announcement, some of you may be wondering: What and where is Cotesfield? It's a speck on the map of time in central Nebraska, smack-dab in the heart of corn and cattle country. My siblings and I have countless memories of growing up in our hometown of 80 people (there are far fewer than that now), attending elementary school in a three-room schoolhouse with one teacher. Many hours were spent hanging out in a treehouse that my oldest brother, Randy, and some friends built from a deconstructed outhouse. Culturally, at mid-day on Sundays we were forced to listen to the "Big Joe Polka Show" on the radio, which my full-blooded Czech father broadcast inside and outside our house. I will share more tales about the antics of bored kids growing up in a small town in future posts!
1982
Yes, it's birthday time again, another opportunity to reflect and plot my life strategy for the next 12 months. This should not come as a surprise, but my adult birthdays have been far less memorable than those in my youth. For example, my second-favorite birthday was in 1982. I had just lost 10 lbs., I had just broken up with my first boyfriend, and I was ready for a mind-blowing senior year of high school.
A week after turning 17 on September 10, 1982, I handed over my duties as head cheerleader for the Friday night Elba High School football game to the alternate cheerleader so I could attend…a Rick Springfield concert. Rick Springfield, who was often shunned as a "pretty boy" for playing Dr. Noah Drake on the "General Hospital" soap opera, came to Lincoln as part of the 1982 Nebraska State Fair concert series.
The concert took place at the Devaney Sports Center, so after walking around the state fair for a couple hours, my mother, sister (Marilyn), brother (Lee) and I found our seats in the auditorium. After the opening act, the Greg Kihn Band, finished their set, I sat quietly in nervous anticipation as thousands of teenage girls shrieked incessantly. Then my pop-star idol appeared amidst a burst of white floodlights, a striking Zeus-god dressed in a yellow Day-Glo shirt with black shiny pants covered with gold zippers. He reminded me of a honeybee. For the next 90 minutes, he teased and flirted with the front-row girls while he sang from a circular stage that slowly rotated. "I feel like a birthday cake!" he yelled to the crowd as we squealed with delight.
1970
The Rick Springfield concert was a notable birthday gift from my thoughtful mother, but my most memorable birthday was in 1970, when I turned five and mom agreed to let me be on "Cartoon Corral," a live after-school show that ran weekdays from 1967 to 1982 on KOLN-KGIN TV in Lincoln.
"Cartoon Corral" was hosted by Leta Powell Drake, a.k.a. Kalamity Kate. Kalamity Kate reminded me of Miss Kitty on the "Gunsmoke" television show with her fiery red hair, but without the beauty mark on her right cheek. At the base of Kalamity Kate's bouffant and below her earlobes emerged two long braids that stretched down the front of her white ruffled blouse, nearly to her waist. I didn't understand the concept of wigs at the time, so her hairstyle always bothered me. It didn't seem possible to have long braids when her hair was bouff-ed on top, unless it was some variation of a mullet.
Kalamity Kate usually wore a navy blue vest and skirt with tan fringes around the edges and bottom. Light brown cowboy boots completed the outfit. She was known as "The West's Only Lady Sheriff."
The highlight of "Cartoon Corral" was when Kalamity Kate dragged around a microphone and cord that she had to whip around and between children, interviewing kids age 10 and younger seated on wooden benches who traveled from all over Nebraska to be on the show. During the interview portion of the show, she asked typical beauty pageant questions: age, hometown, and desired career field. In the early 1970s, most of the girls interviewed on the show wanted to be ballerinas or stewardesses, and the boys wanted to be astronauts or football players. All the kids wanted to hold the microphone while they spoke, but Miss Kate kept the microphone in a death grip. Interviews were followed by more cartoons and some type of lecture about sharing, being tolerant of annoying siblings and being kind to parents and grandparents.
My Big Debut
The day before my birthday, mom drove Marilyn, Lee and me 150 miles to Lincoln to stay with our cousins, the Breckenridges, who lived near the University of Nebraska campus. I was teeming with excitement. It was my fifth birthday, I was in the big city and I was going to be making my professional television debut—the highlight of my childhood. While we walked in the rain from the parking lot to the television station, I felt butterflies in my stomach and could hardly stand the anticipation. We entered through a special side door for "Cartoon Corral" participants, and in front of us was the set. Thick black cables were strewn along the floor, attached to silver metal boxes that were connected to two TV cameras.
As we carefully stepped over the cables to avoid getting electrocuted, I saw my heroine in the distance. My heart stopped. There she was, leaning up against a wall, dressed in green coveralls and…smoking? She looked like Kate the car mechanic! I suddenly realized my experience was all for show, that my celebrity host was a character who didn't exist outside of "Cartoon Corral." The discovery made me uncomfortable and I became nauseously nervous.
From there, everything began to go off script. Apparently, Sept. 1 was not a popular day for birthdays, because only a few kids were in the studio. After I got seated in the front row, Marilyn and Lee got recruited to be "fillers" in the back row of benches. Another painful blow. I was not going to be the only one in the family on TV.
Kalamity Kate emerged just before showtime, looking like she was ready for the rodeo. The bright lights went on and I couldn't see a thing. Miss Kate said her welcome and introduced a cartoon, then she went off camera. Five minutes later, it was show time again and the lights went on. I was in a fog—nervous and scared. She started her interview routine, whipping the cord in-between kids. When she got to me, my mind went blank.
"Hi! Where are you from?" she asked.
"Cotesfield," I blurted out.
"Oh. And what do you want to be when you grow up?"
I panicked, remembering that I had forgotten to think of a sophisticated career choice, so I gave a standard answer.
"Stewardess."
Oh No!
That was it. My TV debut had been ordinary, anything but memorable. I looked down and a shock of disappointment streaked through my body. I had forgotten to show my prop! In my hands was a purse my grandmother Moravec had crocheted out of purple yarn with the bottom half of an empty white dish soap bottle as the base. Why hadn't I shown my masterpiece to the millions of viewers watching so they could see how crafty my grandma was and I could be remembered? I had missed my moment. Yet another failure in a lifetime of goofs.
The interviews were finished and Kalamity Kate introduced more commercials and cartoons. Then, the dreaded hamburger moment arrived. McDonald's always supplied hamburgers for the birthday kids and we were supposed to eat them while the cameras continued rolling. Never mind the fact that McDonald's delivered the burgers an hour before the show began. Kids typically don't eat quickly, and I was the finickiest of the finicky. I took one bite and couldn't eat any more. I was sick with disappointment.
After the final commercial break, yo-yos were handed out to the birthday kids. Some of my fellow birthday colleagues started showing off with their yo-yos, doing the loop-to-loop and walk-the-dog and other tricks. Somehow, all my yo-yo did was get hung up in knots on the way back up. After the show was over and we left the station, mom had to stop and buy yo-yos for Lee and Marilyn.
Lessons Learned
Overall, my television debut was a wake-up call. I learned that:
Even on my birthday, I can be scatter-brained and uncoordinated. But I ought to keep trying my best.
I should give every performance my all, but not expect everything to go according to plan when the bright lights go on.
My heroes and heroines aren't always who they appear to be on screen, but their impact is perpetual. Kalamity Kate is a life-long role model for me, and no doubt for other children who grew up in central and eastern Nebraska in the 1970s.
Cold hamburgers are nasty.
.Make every day as special as your birthday!